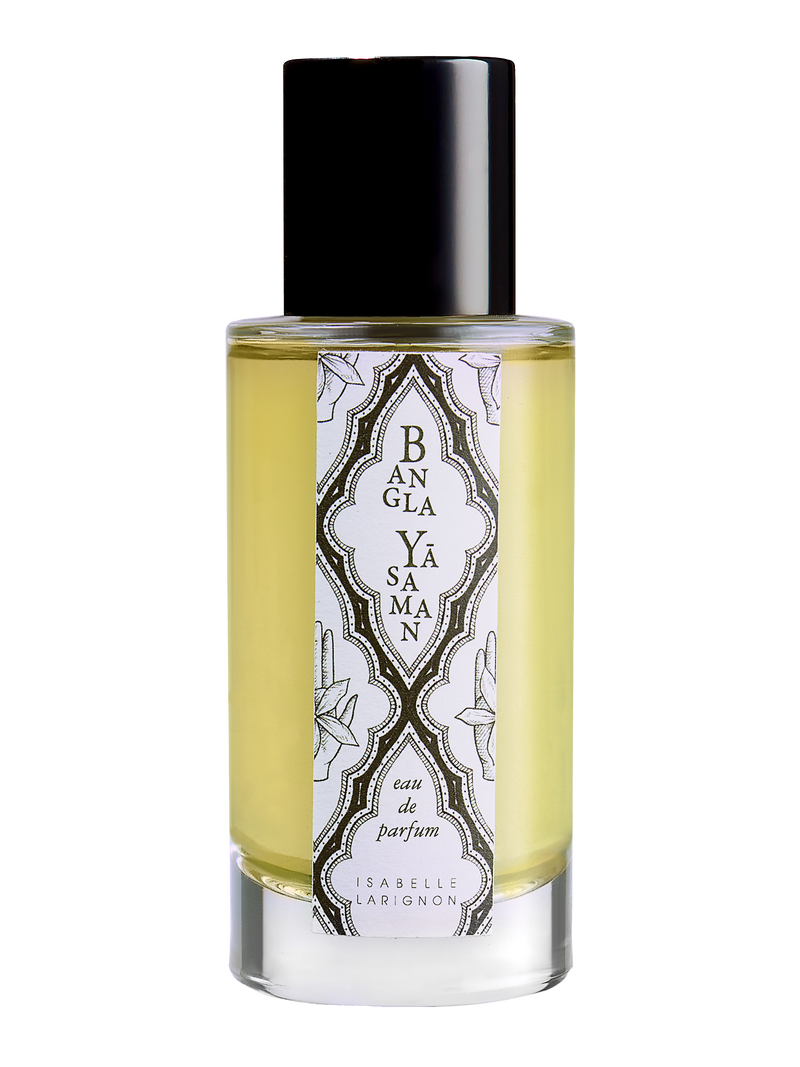 Eau de Parfum
Bangla Yāsaman translates as Bengali Jasmine, inspired by men selling the fragrant jasmine garlands and flowers on bustling Indian streets. The garlands are strung with a miasma of rich, flirtatious jasmine that Isabelle Larignon has chosen to focus on in this her third perfume after Le Flacon de Johann K and Milky Dragon.
Bangla Yāsaman is very different in tone, an unctuous jasmine accord oozes languid desire pitched between fantasy and photorealism. In fact, Isabelle has created a jasmine accord that smells like a beguiling fusion of heady jasmine sambac and the herbaceous smokiness of jasmine grandiflorum. She has used the conjured accord rather like a colour in an austere room, to add drama and texture.
The perfume's glittering start is suffused with citric light. Bucchu is mixed with dusty turmeric and cardamom, suggesting feral, emerald greens stained with bruised fruits. The jasmine-soaked heart has a creamy dose of saffron, sweet rather than savoury, cocooned with the apricot suede scent of osmanthus. The elegant base smells of maple syrup and black pepper with tobacco and green vanilla are permeated with the balsamic terpenes of pungent fir balsam.
Wearing Bangla Yāsaman is a gorgeous experience, a magnificent jasmine accord with multi-facetted diffusion wrapped in an infusion of spices, buttery white tobacco, velveteen vanilla and the boreal satisfaction of fir balsam. It lasts beautifully on skin, holding its form for hours as night falls.
Composition:
Bergamot, Bucchu, Cardamom, Lemon, Turmeric, Bitter Orange Petit Grain
Jasmine Accord, Celery Seed, Osmanthus, Saffron, Clary Sage
Fir Balsam, Indole, Peru Balsam, Tobacco, Green Vanilla
Perfumer: Isabelle Larignon, 2023
inci list: Alcohol Denat., Parfum, Dextro-limonene, Alpha-hexyl cinnamaldehyde, Linalool, Benzyl benzoate, Benzyl alcohol, Benzyl salicylate, Hydroxycitronellal, Benzyl cinnamate, Geraniol, Citral, Coumarin, Farnesol, Alpha-iso-methyl ionone.